New Zealand has a top-notch educational system, credentials that are respected throughout the world, an unrivalled lifestyle, and hospitable locals. Studying in New Zealand is an adventurous experience thanks to the abundance of natural beauty, beautiful scenery, and picturesque coastlines that this island nation has to offer.
Best Overseas education consultants in chennai for New Zealand
Experience education at a first-class institution that is closely monitored and regulated by the New Zealand government. Benefit from a practical and immersive learning environment that emphasizes real-world skill development, leading to enhanced global opportunities. Enhance your proficiency in the English language, positioning yourself for success in a range of competitive professional settings. Gain a competitive edge with credentials from New Zealand that are held in high esteem by employers worldwide. best Overseas education consultants in chennai for New Zealand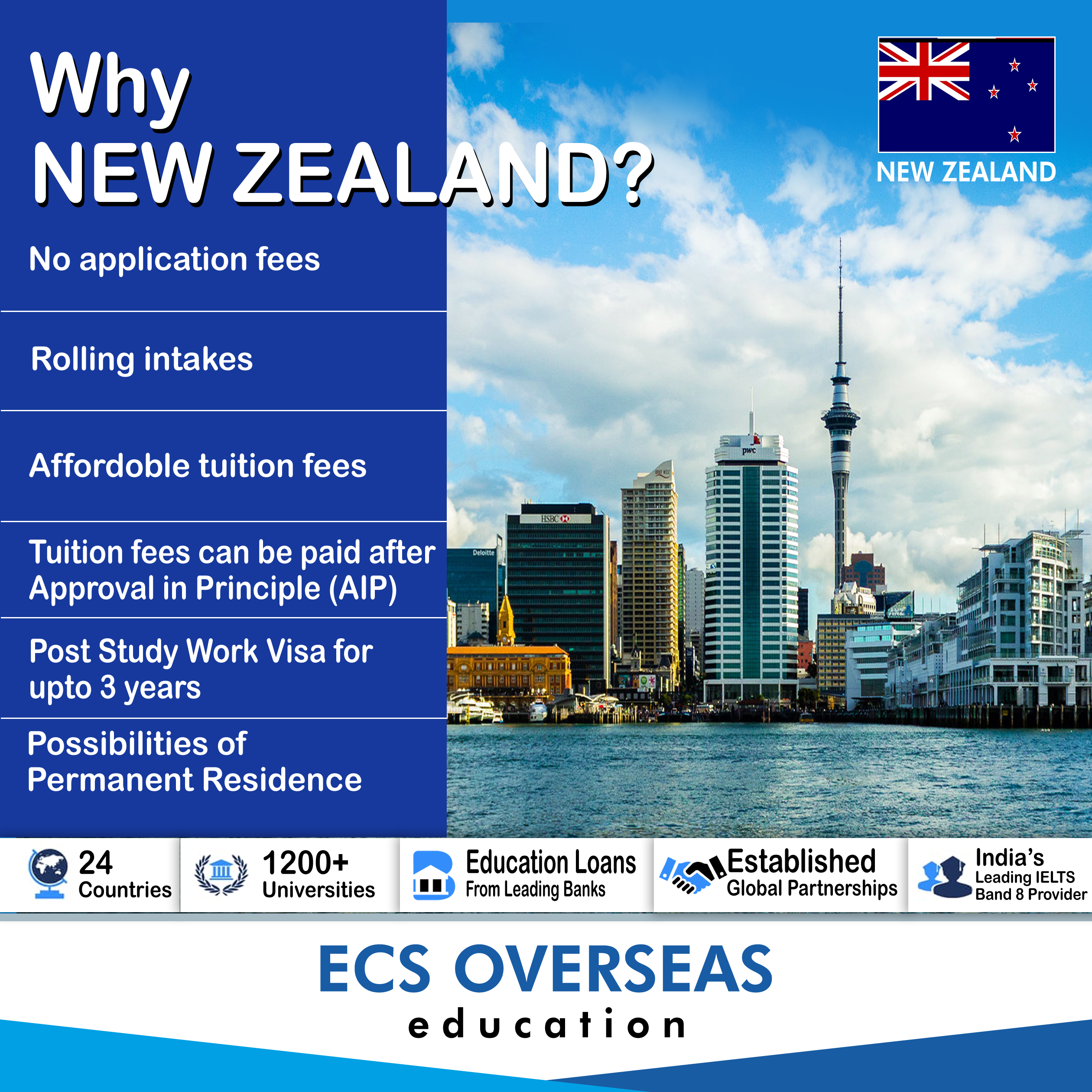 The top 3% of universities worldwide are located in New Zealand.
Only nation in the world with all of its colleges ranked among the top 500 worldwide.
20,000 or more foreign students represent 160 nations.
There are 550 private training establishments, 16 institutes of technology and polytechnics, and 8 state-funded universities (PTEs).
Possibilities for a decent permanent residency after three years of post-study employment.
Top English-speaking nation for educating children for the future (The Economist Intelligence Unit in 2019).
NZ qualifications are recognized in more than 50 countries as a member of the Lisbon Qualification Recognition Convention.
Lower tuition costs and a large number of scholarships available.
Best Overseas education consultants in Chennai for New Zealand
| | |
| --- | --- |
| Types of Expenses | Annual Expenses in NZD |
| Tuition Fees for one-year (Indicative)* | 25000 |
| Living and Accommodation | 15000 |
| Airfare to New Zealand (Indicative) | 1500 |
| Visa Fees | 330 |
| Total Expenses | 41830 |
Careers & Industry Insights
New Zealand is a prosperous country in the Asia-Pacific region, which has experienced rapid economic growth in recent decades. With the second freest and one of the most globalized economies, New Zealand greatly depends on international trade. The country's economy is primarily driven by the service, mining, manufacturing, forestry, agriculture, and dairy sectors, while the IT industry is quickly gaining traction. For those seeking employment in New Zealand, the engineering, business and finance, health and social services, and IT and hospitality industries offer excellent prospects. Despite a relatively high cost of living, New Zealand offers a peaceful and high-quality life that is well worth the opportunities. Best Overseas education consultants in chennai for New Zealand